FlowCon 2013 San Francisco, November 1
Adrian Cockcroft, Tweet
Director of architecture for the Cloud Systems team at Netflix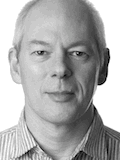 Adrian Cockcroft is the director of architecture for the Cloud Systems team at Netflix. He is focused on availability, resilience, performance, and measurement of the Netflix cloud platform, and has presented at many conferences, including QCon San Francisco, Beijing and Tokyo. Adrian is also well known as the author of several books while a Distinguished Engineer at Sun Microsystems: Sun Performance and Tuning; Resource Management; and Capacity Planning for Web Services.
From 2004-2007 he was a founding member of eBay Research Labs. He graduated with a BSc in Applied Physics from The City University, London.
Twitter: @adrianco
Time: Friday 09:10 - 09:55
/
Location: Fisher Room
As organizations and projects scale up, the patterns that seemed helpful at small scale start to get in the way and velocity suffers. To deliver at high velocity requires four things. First, a culture of innovation that can see and respond to opportunities. Second, the data and analytics to evaluate alternatives. Third, a culture that can make decisions and assign resources quickly. Fourth, agile development and self service deployment. A fine grain loosely coupled architecture scales as the team size grows, a freedom and responsibility culture provides autonomy for innovation and fast decision making, unstructured "big data" analytics gets answers quickly, cloud removes the latency of resource allocation, and devops removes the coordination latency that slows down deployment. Current state of the art is automated staged deployment of microservices using canary signature analysis, we will end with speculation about what comes after that...