FlowCon 2013 San Francisco, November 1
Natalie Hollier, Tweet
Lead Consultant at ThoughtWorks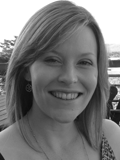 Natalie is a creative and innovative technologist who believes that variety is the spice of life. As someone who is continuously learning and trying new things, she has worked as a software consultant on teams large and small in Australia, Asia, Europe and America. She is accustomed to performing a variety of cross-functional roles on projects; including software development, user experience design, business analysis, and project management.
A constant innovator and compulsive "ideas woman", she is always trying to find new ways of making things work better - whether it be products, processes, teams or organizations. Her most recent passion over the past year or so has been learning and applying Lean UX practices at her current project in New York.
Twitter:
@nataliehollier
Blog:
http://nataliehollier.tumblr.com/
Time: Friday 11:15 - 11:45
/
Location: Robertson 1
Over the past year we have worked as Product & Experience Design consultants at a NY-based education tech startup. We have seen it grow from several people with a great idea and ambitious vision, into a company with over 100 employees across the world.

As the startup grew, we faced many challenges. Our teams were outgrowing our processes and had to evolve. We struggled to balance design ideation with delivery.

Through the journey, we have tried, failed, learnt and succeeded at working in Lean ways to deliver a valuable product that has evolved continuously from it's initial vision. Join us as we explore how to effectively develop a product and evolve a team in the face of constant change.