Flowcon SF 2014, September 3-4 San Francisco, California
Ariadna Font Llitjos, Tweet
Design Principal, IBM Watson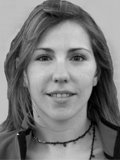 Ariadna Font Llitjós is a Design Principal at IBM Watson, where she is working with cross-functional teams to define, design and implement the next generation of cognitive systems. She is spearheading the adoption of Lean UX and user-centric design and development to empower teams and help them gain shared understanding, focus and improve communication.

She is a regular speaker at Lean UX and Agile conferences and enjoys facilitating collaborative design workshops.

In her previous life, her research focused on improving Machine Translation quality and accuracy by developing a largely automated approach that used online post-editing feedback to refine translation rules. She obtained her Ph.D. in Language and Information Technologies at the Language Technologies Institute in the School of Computer Science at Carnegie Mellon University (August 2007).
Time: Wednesday 12:00 - 12:30
/
Location: Metropolitan 2
Great team work takes careful and deliberate design and intention. It doesn't happen by chance. From hiring T-shaped designers and developers with complementary specialized skills and shared values to cultivating a user-focused process and emphasizing continuous learning and improvement, building a great Lean UX team is short of an accident.

When every single team member puts their specialized skills to good work while collaborating with each other day in and day out, magic ensues. Fostering a one-team environment across functions, geographic sites, and even departments is the single most powerful motivator.