Flowcon SF 2014, September 3-4 San Francisco, California
Jez Humble, Tweet
Author of "Continuous Delivery", Principal Consultant, ThoughtWorks / FlowCon Program Committee Member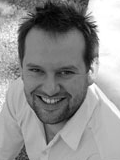 Jez Humble is a Principal Consultant with ThoughtWorks, and author of Continuous Delivery, published in Martin Fowler's Signature Series (Addison Wesley, 2010), and the forthcoming Lean Enterprise, in Eric Ries' Lean series (O'Reilly, 2014). He got into IT in 2000, just in time for the dot-com bust. Since then he has worked as a developer, system administrator, trainer, consultant, manager, and speaker. He has worked with a variety of platforms and technologies, consulting for non-profits, telecoms, financial services, and online retail companies.

Since 2004 he has worked for ThoughtWorks and ThoughtWorks Studios in Beijing, Bangalore, London, and San Francisco. His focus is on helping organisations deliver valuable, high-quality software frequently and reliably through implementing effective engineering practices in the field of Agile delivery. He also serves as Product Manager for Go, ThoughtWorks Studios agile release management platform. He holds a BA in Physics and Philosophy from Oxford University and an MMus in Ethnomusicology from the School of Oriental and African Studies, University of London.
Twitter: @jezhumble
Personal blog: http://jezhumble.net/
Github: http://github.com/jezhumble/javasysmon
Book: Continuous Delivery (Addison Wesley, 2010)
Company website: http://studios.thoughtworks.com
Time: Wednesday 17:30 - 18:00
/
Location: Metropolitan 2
Time: Thursday 09:00 - 16:00
/
Location: Franciscan
After Flowcon 2013, our participants told us they would like more opportunities to meet people and talk about the conference topics. This year we've added a second day for workshops and an open space event.
At an open space event, people discuss things they care about with other people who share similar interests. An open space event promotes agile values of collaboration, conversation and self-organization. Open space events are used to surface common concerns, brainstorm solutions to a problem or simply to exchange information. At the start of the open space event, participants generate a list of potential conversation topics, choose what to talk about, organize into small groups, engage in conversation and then present their conclusions back to the larger group. The outcome of an open space event is a view into the hot topics that exist among your professional community, a chance to share your thoughts with peers, and learn what other people think. It's also an excellent way to network and make new professional connections.
For more information about open space technology, see this article from wikipedia.