FlowCon 2013 San Francisco, November 1
Catherine Courage, Tweet
Senior VP Customer Experience, Citrix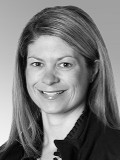 As senior vice president of customer experience, Catherine Courage is responsible for championing exceptional design to drive innovation at Citrix. Her team partners with functions across the company to deliver an outstanding experience for both customers and employees.
Courage began her career at Citrix in 2009 as vice president of product design. Her determination and passion to grow design as a core differentiator led to the competency becoming a company-wide initiative and to the elevation of her role to senior vice president of customer experience.
When Courage isn't evangelizing design at Citrix, you'll find her discussing the topic at TEDx, Stanford's d.school, the California College of the Arts, Tech Women Canada and Design Management Institute. She co-authored the book Understanding Your Users and her work has been featured by Harvard Business Review, The Wall Street Journal, and Fast Company. Courage is an advisor to the entrepreneurial groups Citrix Startup Accelerator and C100.
Prior to Citrix, Courage held other design leadership positions at Salesforce.com and Oracle. She holds a master's degree in applied sciences, specializing in human factors, from the University of Toronto.
Time: Friday 15:50 - 16:35
/
Location: Fisher Room
Has understanding the importance of a design within product companies advanced over the last decade? We have to ask ourselves why we see so many corporations with dedicated user experience teams, yet their products do not reflect this investment. The reality is that it takes more than a team of A + user experience designers and researchers to achieve outstanding design. An exceptional team surrounded by broken process or a lack of understanding of design is doomed to fail. For years we have focused on educating individuals on the user-centered design process. This is one piece of the puzzle; however, the company as a whole must embrace and understand design with a response that entails more than just headcount. Exceptional design cannot be achieved in a vacuum. Design is everyone's responsibility and its success is dependent upon a company that fosters this culture. Design needs to be part of the company DNA. As leaders we need to inspire and ignite a new way of thinking about factors that contribute to exceptional design and develop strategies for achieving this great endeavor.