FlowCon 2013 San Francisco, November 1
Courtney Hemphill, Tweet
Lead Developer at Carbon Five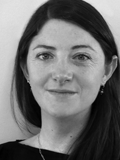 Courtney Hemphill is a Lead Developer at Carbon Five in San Francisco, CA. Over the past 10+ years, Courtney has used Agile and Lean techniques in a wide variety of web and mobile projects for clients including SFMOMA, Skype, Sharethrough, and BookRenter.
An outspoken advocate for integrating design processes into quick development cycles, Courtney and her teams consistently deliver high quality design and development for applications that test both code and interactions with real customers. She also coaches and speaks about techniques that optimize this feedback loop.
Courtney organizes events with Women Who Code and RailsBridge in San Francisco. She has mentored at both LUXr and South by Southwest Interactive and is a regular contributor to the Balanced Team group. Courtney also finds a healthy amount of time to unplug from the internets, traveling in search of the best rock climbing spots in the world, always returning to her primary stomping ground in Yosemite Valley.
Twitter: @chemphill
Time: Friday 13:30 - 14:10
/
Location: Robertson 2 & 3
Using two specific case studies and learnings from other projects, I walk attendees through the weekly cadence that we use at Carbon Five during product development. This methodology and its activities establish a sustainable culture of integrated and invested teams that are able to communicate across disciplines in a meaningful way. The result of creating this type of culture via cadence allows our teams to put new features in front of users each week for validation and hence move the product closer to its market fit faster.