FlowCon 2013 San Francisco, November 1
Joe McLean, Tweet
Product Design Consultant, Thoughtworks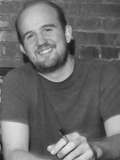 Joe McLean is a product design consultant for Thoughtworks in New York City. With experience in UI design, research, and development, he uses multiple perspectives to help clients make the right product decisions.

For the last two years, Joe has focused on the intersection of technology and education. He has been working with a team to build a real-time collaboration tool for teachers and students in the classroom. In his role he both advises the product design and vision and helps guide the development team towards effective processes for good decision making.


Joe also works as an artist and musician in Brooklyn, believing that good ideas can come from unexpected places and that innovation is a habit that is built across many pursuits.
Time: Friday 11:15 - 11:45
/
Location: Robertson 1
Over the past year we have worked as Product & Experience Design consultants at a NY-based education tech startup. We have seen it grow from several people with a great idea and ambitious vision, into a company with over 100 employees across the world.

As the startup grew, we faced many challenges. Our teams were outgrowing our processes and had to evolve. We struggled to balance design ideation with delivery.

Through the journey, we have tried, failed, learnt and succeeded at working in Lean ways to deliver a valuable product that has evolved continuously from it's initial vision. Join us as we explore how to effectively develop a product and evolve a team in the face of constant change.