FlowCon 2013 San Francisco, November 1
John Esser, Tweet
Director of Engineering Productivity, Ancestry.com and FlowCon Program Committee Member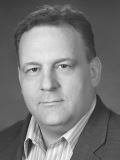 John is currently the Director of Engineering Productivity and Agile Development at Ancestry.com. His team's mission is to accelerate engineering's ability to deliver value to the customer. He is the architect of Ancestry's transformation to Agile development and continuous delivery. John has more than 25 years software development experience working for such companies as IBM, Corel, Callware Technologies, and Control4. His spare time is gobbled up by his beautiful wife, four teenage sons, reading lots of books, and fly-fishing for trout on the Provo River.

Time: Friday 17:30 - 18:00
/
Location: Robertson 1
FlowCon Program Committee will hold a closing panel discussion.