Flowcon SF 2014, September 3-4 San Francisco, California
Whitney Johnson, Tweet
Author of "Dare, Dream, Do: Remarkable Things Happen When You Dare to Dream" and Keynote Speaker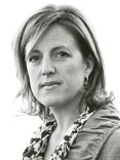 Whitney Johnson is a leading thinker on driving innovation via personal disruption, having co-founded Clayton Christensen's investment firm; she is currently a co-founder of Springboard Fund, investing in high growth women-led businesses. Whitney is a regular contributor for Harvard Business Review and Linkedin, and she speaks and coaches at Fortune 100 Companies, top tier educational institutions, and industry conferences. Her work has recognized by Thinkers 50, which named her as a finalist for the 2013 Future Thinker Award, she is the author of "Dare, Dream, Do: Remarkable Things Happen When You Dare to Dream"
Twitter: @johnsonwhitney
Time: Wednesday 15:50 - 16:35
/
Location: Metropolitan 2
Disruptive thinking improves the odds of success for products, companies and even countries, and harnessing this powerful mindset begins with the individual. In this keynote, Whitney Johnson builds on her Harvard Business Review article Disrupt Yourself®, applying the road-tested theory of disruptive innovation to the individual, providing practical tips along with real-world examples of personal disruption, with a focus on how managers can drive individual and firm-wide innovation. If you are ready to move your organization to the next level, it's time to disrupt the status quo and innovate from the inside.
Time: Thursday 13:00 - 16:00
/
Location: City Room
Building on the 'why disrupt' keynote, in this workshop, we will do a deep dive on the 'how'. Specifically, we will go through (5) concrete steps for implementing an innovative idea; each participant will come up with an action plan for implementing an idea in their organization.